SEE WHAT'S NEW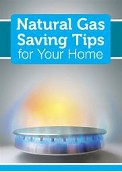 PREPARING FOR HIGHER WINTER GAS PRICES
WHY HAS THE COST OF GAS INCREASED?
Natural gas prices change due to the fluctuation of the market. This stems from the supply and demand issues within the industry and U.S. exports that have grown faster than expected. As a result, natural gas prices are between 70 and 90% higher than 2021.
Whether you use natural gas to heat your home or simply for a few appliances around the house, there are many ways to conserve and save on your utility bill. Below are a few simple steps to help.
SEAL IT UP. Check for leaks around windows, doors, and other openings to the outside.Seal the leaks to keep in the warmth.
CONTROL THE TEMP. Use programmable thermostats to help conserve energy.
REGULARLY CHECK AND/OR REPLACE HVAC. filters every month. New filters usually only cost a few dollars. Dirty filters cost more to use, overwork the equipment, and result in lower indoor air quality.
INSULATE.Wrap water heaters with proper insulation and set the temperature to 120 F (or lower). Insulate your plumbing.
ADJUST YOUR THERMOSTAT. Every degree above 68 on your thermostat can increase your bill by about 3%. So, if you crank it up to a toasty 78 degrees, you've already added 30% to your bill.
Payment Options
Check and cash payments can be made through the drive thru at our office. We encourage other options of payment, such as ACH, online (credit card), or using your bank's online bill pay service, as well as via mail, night drop and telephone (credit card).
To sign up for ACH, there is a form on the back of the bill or on our website www.graysonutilites.com. There is a fillable form on the website, that can be e-mailed to us or printed and dropped at the window or in the drop box. There is NO fee for ACH.
There is a link on our App to pay by credit card. This is also available on our website. There is a $1.50 convenience fee for all credit card payments up to $999.99. Any credit card payments $1000.00 or over will need to be called in and there will be an increased fee according to amount of payment. Most banks offer a bill pay service online.
If there are any questions feel free to call our office at 474-7569 option 3 for customer service.
GET THE NEW GRAYSON UTILITIES COMMISSION ADVISORY APP
To communicate more effectively and become more transparent with our customers/citizens, Grayson Utilities Commission has invested in designing and building our very own Advisory App and has connected wtih the Play & Apple Stores. Our plans are to utilize this App to better communicate information to you, our customer.

---
A few examples of the types of advisories we may be sending out are as follows:
Construction Activities
Maintenance Activities
Boil Water Advisories
Detours
Community Events
Provide Educational Information
Staff Recognition
Consumer Confidence Reports
Board Meeting Reminders

Payment Reminders
Connection to On-line Bill Pay
Connect to Customer Service email
Provide Contact Information for key staff members
Anything that would typically be advertised in the newspaper
Miscellaneous information, i.e. change in schedules
To install the App, you DO NOT need to contact us, or complete a profile that includes any personal information. Merely do the following:
Click on the Play or Apple Stores

Then, type Grayson Utilities Commission Advisory or GUC Advisory,
Then, click on the App,
Then, click install,
You are COMPLETE, you will now receive Alerts/Notifications
Alerts will be silent,
Notifications are for emergencies and will ding or vibrate
You can also pay your bill from this App.
Please consider trying it out. This is a FREE download. It could be very helpful to you, your family and friends. You can delete it at any time and we welcome your feedback.
_____________________________________________________
Advisories
There are currently NO boil water advisories.

Please go to your App store on your smart phone and download the GUC Advisory App. Its free and will up date you on boil water advisories happening in your neighboorhood.
If you have questions about an advisory, please call the Utility Office at 474-7569 (before 4:00pm on weekdays) or the Grayson Water Treatment Plant at 474-5731 (after 4:00pm and during weekends).